Host your class, activity, rehearsals, or meetings with us! Our Polish Club Windsor representative will be happy to discuss what we have available for your specific needs. Email Iwona (Yvonne) at [email protected]
Host your class, activity, rehearsals, or meetings with us! Our Polish Club Windsor representative will be happy to discuss what we have available for your specific needs. Email Iwona (Yvonne) at [email protected]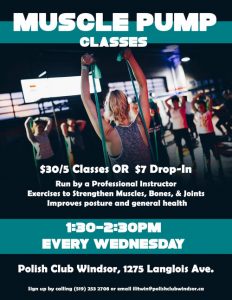 WEEKLY MUSCLE PUMP | 1:30PM – 2:30PM
Join us every week for MUSCLE PUMP! Strengthen your muscles, bones, and joints as well as improve your posture and general health. Classes are run by a professional instructor and include exercises on chairs or standing, with or without light weights. Over time, balls, and elastic bands will be introduced.
For more information, please email Iwona (Yvonne) at [email protected]
$30 / 5 classes | $7 drop-in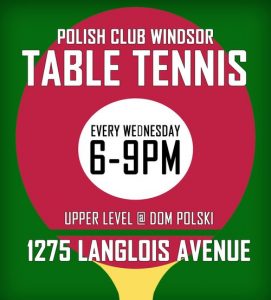 WEEKLY PING PONG | 6:00PM-9:00PM
Enjoy friendly rounds of Table Tennis and practice your technique every Wednesday with a dedicated group of players. Please wear athletic gear including running shoes.
$5 drop-in
Host your class, activity, rehearsals, or meetings with us! Our Polish Club Windsor representative will be happy to discuss what we have available for your specific needs. Email Iwona (Yvonne) at [email protected]
Host your class, activity, rehearsals, or meetings with us! Our Polish Club Windsor representative will be happy to discuss what we have available for your specific needs. Email Iwona (Yvonne) at [email protected]